Samsung | Galaxy Fit e Smart Band | Black Strap
Adorn your wrist with the Samsung Galaxy Fit e and start your fitness journey instantly. Thanks to its long-lasting battery, it has enough power to last through your daily workout regimen. With its Auto Workout Tracking feature, this device can automatically detect three activities, which include walking, running, and dynamic workouts.
View Your Fitness Stats Instantly
With a simple flick of your wrist, you can clearly view all your essential fitness information on the compact and simplified display of this smartband.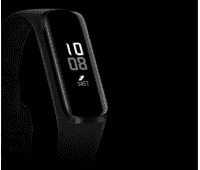 Lightweight and Durable Materials
This smartband makes use of lightweight and durable materials to ensure that you don't feel weighed down while exercising.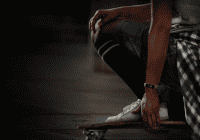 Long-lasting Battery
This device comes with an impressive battery life to let you power through your daily workouts. Thanks to this, you can track the status of your activity and also receive notifications without losing connection with your smartphone.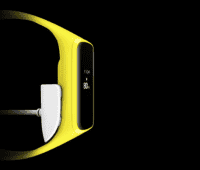 Water-resistant and Long-lasting
To make sure that nothing comes in your way of keeping fit, this smartband has a durable and water-resistant (water resistance of up to 5 ATM) construction. This ensures that you can workout outside even during light rain or in dusty conditions.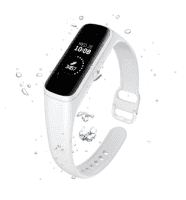 Stay Updated
When your phone is connected to this smartband, you'll stay informed of all your notifications. This way, you'll know when you're receiving calls, calendar alerts, and so on.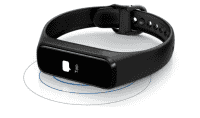 Track Your Activities Easily
The Auto Workout Tracking feature enables this smartband to automatically detect up to three activities that include walking, running, and dynamic workout. It also sends your heart rate to your smartphone through the Samsung Health App before you start any of the activities. This way, you can easily track your stats in real time.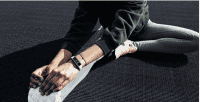 Improve Your Sleep
This smartband uses auto sleep tracking to analyse your sleeping pattern through the different stages of sleep. It does so by detecting your movements as you sleep. It then goes on to intuitively organise the data so that you can monitor your sleep and make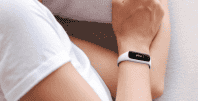 Minimalist and Lightweight Design
This smartband features a slim and lightweight design so that you can wear it for a long time without even realising that it's on your wrist.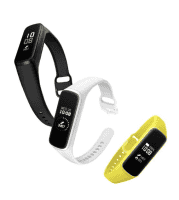 General
Model Number:
SM-R375NZKAINU
Model Name:
Galaxy Fit e Smart Band
Suitable For:
Health, Lifestyle
Function:
Display Time/Date, Alarm Clock, Call and Text Alerts
Indicator Type:
Vibration
Compatible Devices:
iPhone, Android Phones
Performance Features
Sensors:
Accelerometer, Heart Rate Sensor
Activity Tracker Present:
Yes
Activity Tracking Function:
Monitor Heart Rate, Daily Step Count, Distance Covered, Calorie Burned, Sleep Monitor, Blood Pressure
Compatible OS:
Android & iOS
Heart Rate Monitor Present:
Yes
Water-Resistant Depth:
50 m
Connectivity Features
Wireless Options:
Sync Wirelessly
Display & Battery Features
Display Resolution:
128 x 64 Pixels
Battery Type:
Lithium Polymer
Additional Features
Supported Apps:
Samsung Health App
Other Battery Features:
70 mAh Battery
Other Display Features:
0.74 inch PMOLED Display
Manufacturing, Packaging and Import Info
Manufactured by:
Samsung India Electrronices Pvt Ltd, 6th Floor ,DLF Center Sansad Marg ,New Delhi -110001
Imported by:
Samsung India Electrronices Pvt Ltd, 6th Floor ,DLF Center Sansad Marg ,New Delhi -110001
Packed by:
Samsung India Electrronices Pvt Ltd, 6th Floor ,DLF Center Sansad Marg ,New Delhi -110001