Samsung Galaxy | Fit Smart Band | Black Strap
Instant Fitness Stats
Thanks to the Full-colour AMOLED Display of this smartband, you can clearly see your fitness stats. Also, they can be viewed in an instant with just a flick of the wrist.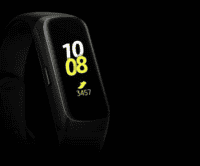 Feel Light and Free
This smartband makes use of durable and lightweight materials so that you can freely move about while exercising.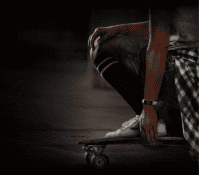 Long-lasting Power
Your daily workouts will not be interrupted as this smartband has a long-lasting battery. This way, you can push yourself for long hours to reach your fitness goals.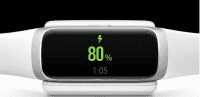 Durable and Water-resistant
This smartband is compliant with military-level standards and has a water-resistance of 5 ATM. This helps ensure that you can enjoy outdoor workouts without worrying about dust or light rain.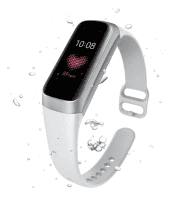 Heart Rate Monitoring
With this smartband, you can cautiously push your limits while working out as it tracks your heart rate. It sends out alerts to inform you when your heart rate rises above normal.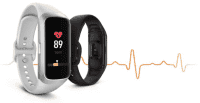 Keeps You Connected
This smartband allows you to instantly reply to incoming texts with preset messages. It syncs your phone's 'Do Not Disturb' settings so that you're not disturbed while working out.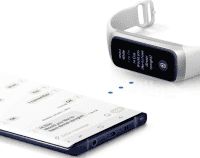 Track All Your Activities
Thanks to this smartband, you can automatically track the progress of up to six activities. Now, select and customise up to ten fitness activities from a range of over 90 workout modes on the Samsung Health (mobile) app. This way, you can give your complete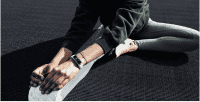 Auto Sleep Tracking
Equipped with auto sleep tracking, this smartband can analyse your sleeping patterns through the different stages of sleep. It then gives you a detailed account of the data so that you can track it effectively and make changes to your lifestyle.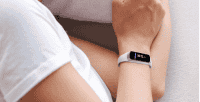 Helps You Stay Calm
This smartband helps you lower your stress levels. It enables you to monitor stress and also provides you with guided breathing exercises to help you relax.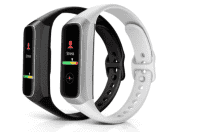 General
Model Number:
SM-R370NZKAINU
Model Name:
Galaxy Fit Smart Band
Suitable For:
Health, Lifestyle
Function:
Display Time/Date, Alarm Clock, Call and Text Alerts
Indicator Type:
Vibration
Compatible Devices:
iPhone, Android Phones
Performance Features
Sensors:
Accelerometer, Gyro, Heart Rate Sensor
Compatible OS:
Android & iOS
Water-Resistant Depth:
50 m
Connectivity Features
Wireless Options:
Sync Wirelessly
Display & Battery Features
Display Resolution:
240 x 120 Pixels
Battery Type:
Lithium Polymer
Additional Features
Supported Apps:
Samsung Health App
Other Battery Features:
120 mAh Battery
Other Display Features:
0.95 inch Full Vivid Color AMOLED Display
Manufacturing, Packaging and Import Info
Manufactured by:
Samsung India Electrronices Pvt Ltd, 6th Floor ,DLF Center Sansad Marg ,New Delhi -110001
Imported by:
Samsung India Electrronices Pvt Ltd, 6th Floor ,DLF Center Sansad Marg ,New Delhi -110001
Packed by:
Samsung India Electrronices Pvt Ltd, 6th Floor ,DLF Center Sansad Marg ,New Delhi -110001