Hisense A71F 108 cm (43 inch) Ultra HD (4K) LED Smart Android TV with Dolby Vision & ATMOS-43A71F | Black
Hover on image to enlarge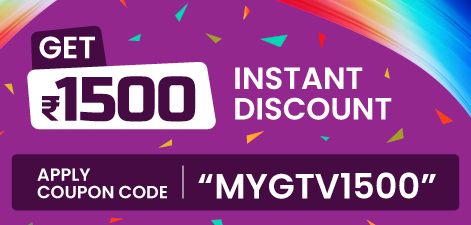 Enjoy a whole new level of visual experience with this TV from Hisense. Featuring a bezel-less design and Dolby Vision, this Hisense TV amplifies your decor and ensures that your favourite video content looks as good as real. It packs the Android 9.0 OS, helping you access hundreds of applications and games, among other things, which will make your life convenient and more fun.


Dolby Vision
Dolby Vision makes the highlights brighter than ordinary TVs by up to 40 times, and it darkens the blacks by about 10 times. Thanks to that, you enjoy watching lifelike visuals on this TV's screen.
Dolby Atmos
Whether you're watching an action-packed movie or playing a game, you will find yourself in the thick of the action as Dolby Atmos delivers fuller and highly immersive surround sound that will leave you in awe.
Android 9.0
This TV features the Android 9.0 OS to open a world of new possibilities for you. Not only does it make this TV's operation faster but also gives you access to Google Play Store. You can use this feature to personalize this TV's home screen, search for things on Google, cast videos on this TV's screen, and do much more with the utmost ease.
Bezel-less Design
Its slim body and bezel-less design are certain to make the heads turn. On top of that, these two aspects add to your home's decor and make your viewing experience seamless and immersive.
Ultra Vivid High Contrast Panel
This panel makes the whites brighter and the blacks deeper and darker. This adds more depth to the video content that you're watching, thereby helping you see much more detail as well as bright and vivid colours.
Ultra Dimming
The images in your favourite video content are dynamically refined by this feature. Thanks to that, you're able to see even the most minute details and rich layers across the darks as well as the brights.
HDR
This TV from Hisense supports different HDR formats, such as HDR10+ decoding, HDR10, and HLD. This ensures that your favourite video content is immersive as it facilitates better detail in the shadows and makes the highlights brighter.
UHD AI Upscaler
This feature enhances non-4K signals so that you can enjoy near-4K resolution, along with stunning detail, even with a regular FHD signal. The neighbouring pixels are calculated and compensated for by the UHD AI Upscaler by applying the required coloured pixels to each scene.
Precision Colour
This TV's 10-bit colour depth and innovative embedded algorithms ensure that you enjoy a wide range of colour shades as well as an accurate reproduction of natural-looking colours. In addition to that, this TV also prevents oversaturation, ensuring that you experience vivid and realistic colour expressions.
Game Mode
Thanks to this mode, the input lag is significantly reduced. This helps you play fast-paced, competitive games with next to no delay between the input and the on-screen development, helping you play to the best of your abilities.
Powerful Speakers
Its Powerful Sound speakers make for stunning clarity and detail so that you can enjoy an immersive audio experience irrespective of the type of content you are watching/listening to.
Google Assistant
Your own personal assistant, Google Assistant helps you look for interesting content that you'll love indulging in. You can also use it to control the smart home devices that are installed in your home. Simply press the Assistant button on the TV's remote and use your voice to get the TV to execute your task.
Google Play Store
With this TV, you can access the Google Play Store and download a wide range of applications to fulfil your streaming, gaming, and other needs.
Chromecast Built-in
Using this feature, you can easily cast the contents of your iOS/Android smartphone/tablet, Windows computer, or even your Chromebook, on this TV's big screen.
5G Wi-Fi
Streaming high-resolution content from the Internet is quite convenient with this TV as its built-in Wi-Fi supports both 2.4G and 5G Band Wi-Fi speeds. You can take advantage of it to use your favourite app and games easily without any lag.
General
In The Box:
Remote: 1U, Manual: 2U, Table Stand:1U, Wall Mount: 1U, Warranty Card: 1U, Batteries: 2U
HD Technology & Resolution:
Ultra HD (4K), 3840 x 2160
Internet Features
Other Internet Features:
More than 5000 plus apps and games, Chromecast, Google Play Store, Google Assistant, Unilimited content
Video Features
Digital Noise Filter:
Yes
Other Video Features:
Dolby Vision HDR, Ultra Vivid High Contrast Panel, HDR10, HLG, Ultra Dimming, UHD AI Upscaler, Game Mode, Precision Colour, Noise Reduction
Smart Tv Features
Supported App - Netflix:
Yes
Supported App - Youtube:
Yes
Supported App - Hotstar:
No
Operating System:
Android
App Store Type:
Google Play store
Content Providers:
Netflix, YouTube, Google Play Movies & TV, Google Play Store, Prime Video, Hotstar
Audio Features
Sound Technology:
Dolby Atmos
Supported Audio Formats:
24 W Powerful Dolby Atmos Sound
Convenience Features
Other Convenience Features:
Direct App Access Hotkeys, Bluetooth Voice Remote, Dolby Vision, Dolby Atmos
Power Features
Power Consumption:
0.5 W (Standby)
Power Requirement:
AC 100 - 240 V, 50/60 Hz
Remote Control Features
Battery Type:
2 AAA Batteries
Other Remote Control Features:
Voice Control
Additional Features
Additional Details:
Google Assistant, Official Android 9.0 Pie TV, Built-in Chromecast, Ultra Slim and Near Bezel-less, Ultra Dimming, UHD AI Upscaler
Dimensions
Width x Height x Depth (without stand):
96.1 cm x 56 cm x 8.4 cm
Weight (without stand):
6.8 kg
Width x Height x Depth (with stand):
96.1 cm x 61.3 cm x 19.6 cm
Weight (with stand):
6.9 kg
Manufacturing, Packaging and Import Info
Manufactured by:
HisenseIndiaPrivateLimited IHDP Business Park,Sector 127,Noida,201301,UP.
Imported by:
HisenseIndiaPrivateLimited IHDP Business Park,Sector 127,Noida,201301,UP.
Packed by:
HisenseIndiaPrivateLimited IHDP Business Park,Sector 127,Noida,201301,UP.