SAMSUNG Smart TV | UA32T4350AKXXL | 32 inch | HD Ready LED Smart Tizen TV
Hover on image to enlarge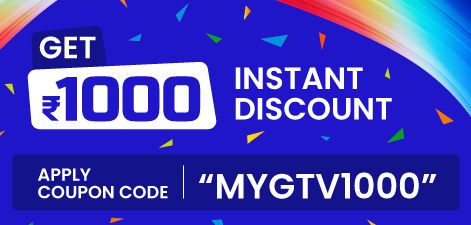 Contrast Enhancer
With the Contrast Enhancer feature of this TV, flat images will look livelier as the contrast will be adjusted. This way, you can enjoy better picture quality and deeper depth.
High Dynamic Range (HDR)
You can enjoy a wide spectrum of colours and visual details even when the scenes on the screen are dark, thanks to the high dynamic range feature of the TV.
Virtual Music System
Your TV can be converted into a virtual music system so that you can enjoy better sound and visuals.
Screen Mirroring
With compatible smartphones, you can share your vacation videos, music, and more to the large screen of the TV so that your family can walk down memory lane with you.
One Remote
With one remote, you can unveil a whole world of content. You can use the same remote to control your set-top box, gaming console, various apps, and more.
Ultra Clean View
You can enjoy high-quality images that have less distortion as the Ultra Clean View feature makes use of an innovative algorithm. It carefully analyses the original content and then delivers it after it's properly improved.
General
In The Box:
1N LED TV,1N POWERCORD,2N BATTERY -ALKALINE(AAA BATTERY),1N REMOCON,1N STAND LEFT,1N STAND RIGHT
Model Name:
UA32T4350BKXXL
HD Technology & Resolution:
HD Ready
Smart Tv Features
Supported App - Netflix:
Yes
Supported App - Youtube:
Yes
Supported App - Hotstar:
Yes
Supported App - Prime Video:
Yes
Supported Mobile Operating System:
Yes
Manufacturing, Packaging and Import Info
Country of Origin:
Vietnam
Manufactured by:
SAMSUNG HCMCCOMPLEX CO.LTDLOT I-11, D2ROAD,SAIGONHI-TECHPARK,DST-9,HOCHIMINHCITY,Vietnam
Imported by:
SAMSUNG HCMCCOMPLEX CO.LTDLOT I-11, D2ROAD,SAIGONHI-TECHPARK,DST-9,HOCHIMINHCITY,Vietnam
Packed by:
SAMSUNG HCMCCOMPLEX CO.LTDLOT I-11, D2ROAD,SAIGONHI-TECHPARK,DST-9,HOCHIMINHCITY,Vietnam