BPL | 65 inch Ultra HD LED Smart Android TV
Hover on image to enlarge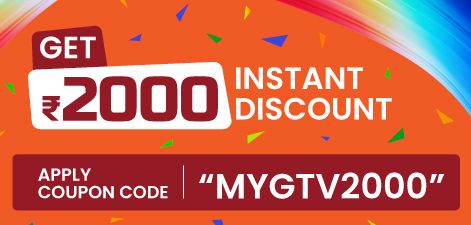 Indulge in an immersive viewing experience with 65 inches of Bezel-less display and 4K resolution + HDR 10.
Experience only the best, with Dolby Vision + Dolby Audio, which takes your watching experience to the next level
Never miss out on your favorite content as the BPL Smart TV comes with all Android OS features built!
Dolby Vision The 65-inch TV comes with Dolby Vision +HDR 10 which makes sure you watch everything in stunning detail for a truly immersive experience.
Dolby Audio The in-built crystal clear Dolby Audio gives you the best sound quality whether you watch a broadcast, a disc, stream, or download. If that wasn't enough, it also comes with 9W + 9W down-firing box speakers! Bezel-less Display Feel as if you're right inside the visual as you enjoy maximum viewing area with a bezel-less display that also makes sure that your TV blends seamlessly with your surroundings.
Enjoy surfing your favorite shows, and movies on the big screen. The 65-inch TV by BPL has all your favorite android apps and features that will ensure you are always power-packed with entertainment.
4K Ultra HD
Experience real-world
General
In The Box:
LED tv + remote +table top set (L &R)+wall mount bracket +user manual =power cord -1n each,table top screw +battery AAA-4N
HD Technology & Resolution:
Ultra HD (4K), 3840 x 2160 - Ultra HD
Smart Tv Features
Supported App - Netflix:
Yes
Supported App - Youtube:
Yes
Supported App - Hotstar:
Yes
Supported App - Prime Video:
Yes
Power Features
Power Requirement:
AC 100 - 240 V, 50/60 Hz
Power Consumption:
120 W (Standby)
Manufacturing, Packaging and Import Info
Manufactured by:
MIRC Electronics Limited, Village Kudus, Bhiwandi, Wada Road, District: Palghar, Maharashtra - 421312, MIRC Electronics Limited, Village Kudus, Bhiwandi, Wada Road, District: Palghar, Maharashtra - 421312
Imported by:
MIRC Electronics Limited, Village Kudus, Bhiwandi, Wada Road, District: Palghar, Maharashtra - 421312
Packed by:
MIRC Electronics Limited, Village Kudus, Bhiwandi, Wada Road, District: Palghar, Maharashtra - 421312